Duck 'n Roll
Now that I'm all in at this point, I naturally have several lists going: rare, ultra rare and high priority. These are the ones that I will drop everything for because they either sound cool or just don't ever come around the Merch.
Duck 'n Roll was on my high priority list. Why? Duck, that's why. I love duck. Plus, I love the name of this truck. Reminds me of my first office job where we had paperclip fights (sounds harmless, but exceedingly dangerous, trust me) and we often would shout "Tuck and Roll!" as we made our way through the file cabinet maze. Ah, the good old days.
So imagine my delight when I learn that Duck 'n Roll is going to hit Hubbard and Wells, same place as yesterday's stop. Nice! And on Day Four of Big Food Truck week too. Let's go!
Again with some new recruits, we set out to track down our food. Up to now, I think I've had a newbie with me for every outing. Like I've said, I'm determined to get others hooked on the juice.
The others were going back and forth on what to get. Miso short ribs? Mmmmmm. Asian BBQ pork? Sounds tasty. Me? I figure: the truck is not called Short Rib 'n Roll, nor is it called Pork 'n Roll. So it's no contest: the 5 Spice Duck for me please!
Up to now, I've been getting a sense for the shapes and sizes of truck food. Holy hell, this thing was ginormous! And while the other rolls sounded tasty, the duck was all win in my book.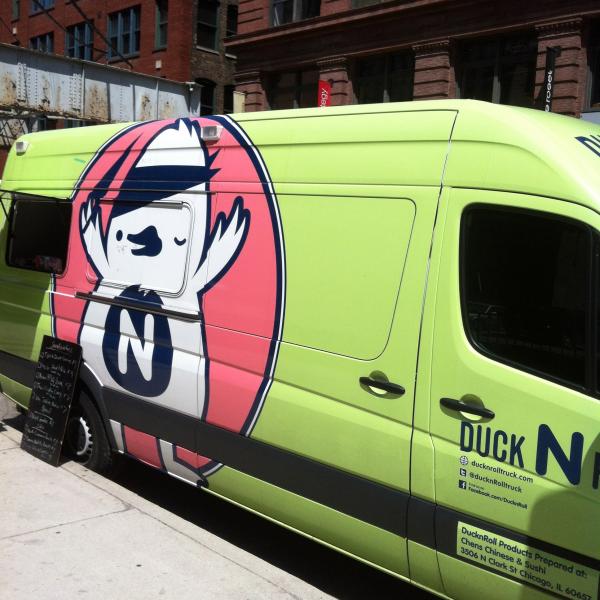 Follow that Truck!
Thanks to Steve Dolinsky for stopping in at Saucy Porka and the awesome segment that aired this weekend on ABC7's Hu…

t.co/yCrRujBayq

Saucy Porka got a great mention in USA Today's Cheap Eat's feature this week. Check it out

t.co/pQN6dTbZnb

RT

@SaucyPorka

: We'll be featured on Fox News TODAY at 12:20PM! Showing off our bacos, chorizo egg rolls and paella!

#pigout