Dokkaebi Tacos
Now here's a truck I'd been following since before it was even a truck. He was posting like crazy from all over the country for a while. Never found out why, but after recently completing an Epic Road Trip and tweeting along the way, I could relate.
So naturally I was in touch via twitter and practically begging for a Merch stop once he hit the streets.
The Dude abides!
This truck's third day on the road, and better still, on Chicago Food Truck Day, Dokkaebi Tacos lands at Kinzie and Wells. At that point, it was my youngest truck yet (spoiler alert). And I really dig that design (though I can't spell it to save my life...have to keep looking at my snap).
Five of us headed out and had a nice chat with the fellow before grabbing our tacos. Me, I did the combo: one pork bulgogi taco, one steak bulgogi taco and a side of kimchi. Oh hello kimchi, I love you so.
Those tacos rocked it. I definitely preferred the steak over the pork. And the truck was so brand spanking new that the alleged seasonal taco teasing us on the menu was still a week away.
Ah'll be bock! (Damn, I am killin' these impersonations!)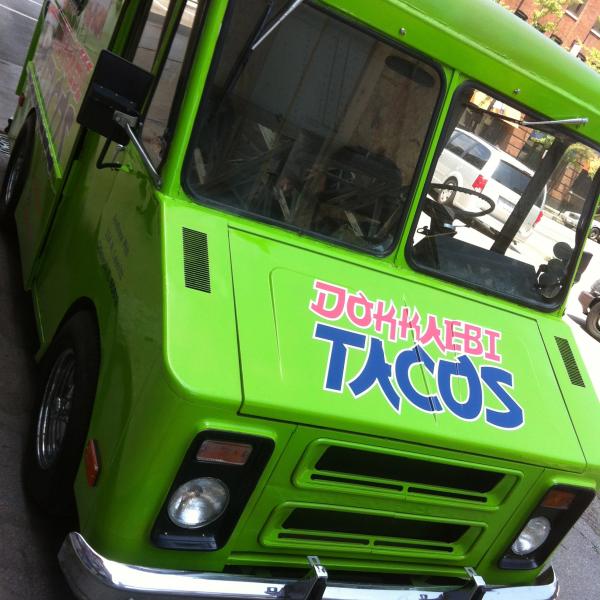 Follow that Truck!
Best time of the year. The Madness has descended it's sweetness upon us

Bo Ryan gets no love in the best coaches debate. I have no loyalties to Wisky but I love watching them play. Ryan is a phenomenal coach.

I don't understand this "land shark" thing. Either way Ole Miss v Florida has been fantastic

Nothing really beats St Pats Day and some good college hoops. ACC title game is shaping up for an amazing ending.