Sugarpie Cafe
Who doesn't love bread pudding?
Exactly! So when I saw a tweet from Sugarpie mentioning bread pudding, I just had to get my hands on some.
Bring on the tweets! They were very accommodating offering up a #merchmart landing. Fantastic...save me some of that bread pudding please!
Now, a little side story is that I'd repeatedly tried and failed to connect with Babycakes. But this was going to be the day over at 600 West.
Hmm...two sweet trucks for lunch. Gonna need something savory. First world problems indeed.
Time to go. Still no post from Sugarpie about landing so it's off to 600 West and we'll hit 'em on the way back. Woah...check that out! It's Sugarpie holding for a parking spot on Kinzie right below us. Guess we'll head down there first.
People were on the street above (odd configuration over there) pointing and snapping pics as we waited for the van to park. Kinda surreal, but whatever. And we had a good chat about the mission while she was setting up.
"Got some of that tasty bread pudding?" I ask. Victory is mine.
Tasty bread pudding indeed! That perfect texture. Good hit of spices. And whatever that drizzle is, yum.
I love unique options from the trucks and this fits the bill perfectly. Nice!
Acquired:
Thursday, August 23, 2012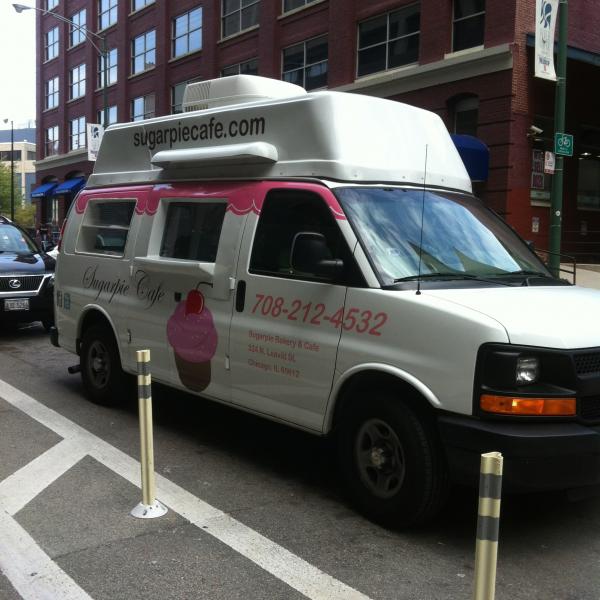 Follow that Truck!
Cupcake food truck for sale. Serious inquiries please email sugarpiecafe

@gmail

.com

Happy Thanksgiving to you! Hope your Thanksgiving is filled with love, joy & peace. Take time to reflect on what you are thankful for