Sweetie Cakes
This week started strong with a Monday double at 600 West, but it fell flat after that. Thursday was my last chance to score a truck until mid-June. I was setting off for one of those bucket list trips: driving Route 66. Following that, hitting some major cities along a different route home. L.A., Vegas, Denver and Omaha. It was gonna be epic.
So I took my chances, left my lunch at home and crossed my fingers. Lunch time approaching, I checked my twitter feed. It was a bust. No new trucks. Curses!
Ah well, not a big loss because Tamale Spaceship just landed at Lake and Clinton. Let's roll! Anyone? Anyone? Bueller? Fine then, I'll go it alone.
So imagine my surprise when I turned the corner and saw this pink beauty doubled parked behind the Spaceship. I can't tell you how much I love a bonus truck. Total win. And get this: another sweet truck ending up in another sugar-appropriate number, Sweet 16. I couldn't have planned it better.
Steak and mole tamales acquired, it was time to grab dessert. The windows weren't even open because she was waiting to park, but that didn't stop her from helping me on my mission. Some cool sounding flavors, but that Mondo Italiano cupcake has my name written all over it.
Sweet ricotta frosting with cannoli filling. Nice!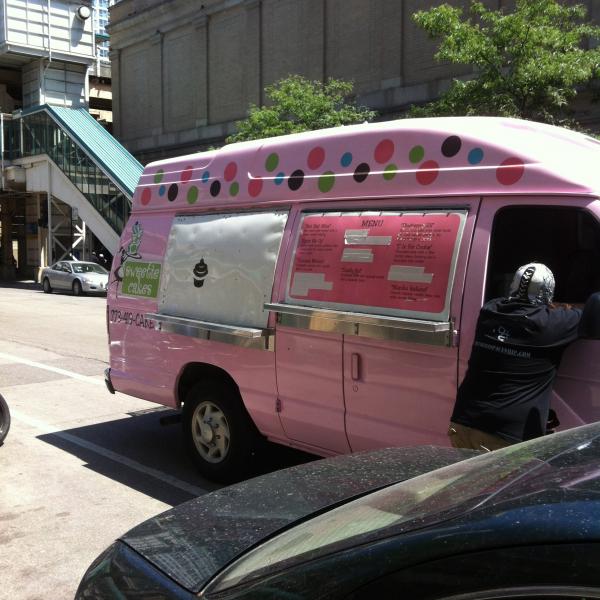 Follow that Truck!
On lake and Clinton w tamale space

Hello again U of C, change of venue, NATOs to blame . We are serving yummy cupcakes , in front of Reg by quad.

Good morning U of C we are in front of Reg, with tamale. Foodie& duck & roll. Swing by for lunch. Come to sweetie

Hello n happy Friday we are bon Jefferson/Jackson , come n get somecupcskes

Morning all U of C , sweetie skew is on 57 th along w , duck n roll. Come to suga momma