The Pizza Via
Achievement unlocked!
It's been 2.5 years in the making, but I've finally scored my 100th Chicago truck. And the sweet irony is that I did it in my own back yard, at Plank Road Tap Room in Elgin.
If you've been following along, you know that I work in a food truck desert. Generally, I walk a mile to get to a food truck. This winter has been particularly harsh, so my food truck activity has been low, and I'm looking forward to changing that as I kick of The Next Next 50 mission.
But enough about me, let's talk about Pizza Via.
Mind you, I could have scored Pizza Via at the last Food Truck Extravaganza that Toasty Cheese hosts in Schaumburg. But I waited. See, I wasn't sure if 100 should be some big blowout thing, or just fly completely under the radar.
The latter was always my preference, so imagine my surprise when Plank Road Tap Room's Twitter account hit me up, asking whether I'd ever been. Sure I have, but not for food trucks. This little gem is about 10 minutes from my home, way out in the NW burbs. Other new breweries and tap rooms out this way have been hosting trucks as well, which is great for me.
So when my buddy @GregoryPecs also shouted out at me, it was a done deal.
People, you need to get to this truck. It lives in the Schaumburg area, and the pies are serious.
Greg and I started with the El Jefe and the Italian Beef. I wasn't really paying attention to the El Jefe ingredients, because anything called El Jefe is a winner in my book. I was taken aback because this El Jefe—while delicious with prosciutto, mushrooms and balsamic—didn't fulfill my expectations from the name alone.
But the Italian Beef completely blew me away. The giardiniera brought just the right amount of twang and heat to the party. The crust was a bit soggy from all the ingredients, so I instituted the pizza slice roll and the two of us killed it.
We spent some time chatting with the folks at the tap room, and before I knew it, I was craving more of that Italian Beef pizza. So I hurried out, hoping they'd still be serving. And they were! Only they had just sold the last of the Italian Beef.
I asked my next best bet and was told either the sausage or the pepperoni. Naturally, I opted for a combo, and add some of the giardiniera, if you please.
I'm happy to report that all the Chicago pizza trucks are seriously solid Chicago pizza trucks. You should hit them all.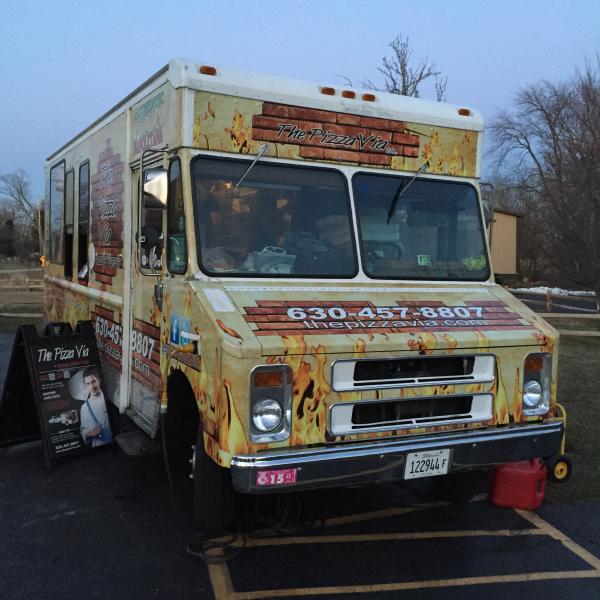 Follow that Truck!
Welcome to the weekend! Post work beers & our pizza happens today at Noon Whistle Brewing from 4:30 til 9pm. 800 E. Roosevelt rd. Lombard.

We're serving lunch today in Naperville, Crate & Barrel,1860 W. Jefferson St. Fresh made to order pizza for you from 11:30am til 1:30pm.

We'll be serving up the good eats today at the Plank Rd. Tap Room in Elgin from 5:30 til 8:30pm. (39 W 149 Plank rd.)

Join us for pizzas and beer today at the Church Street Brewing in Itasca. We're there from 4 til 8pm. (1480 Industrial Drive, Unit C)

Who wants craft beers and made to order pizzas today? We're on hand at Pollyanna Brewing from 4 til 8pm. (431 Talcott ave. in Lemont)