Yum Dum Truck
This one has been a long time coming.
Waaaaay back (we're talking March of 2013), when Yum Dum announced it was planning on bringing tasty dumplings to the streets of Chicago (bonus points if you recall the original name of the truck), I was ready.
And then they started serving at The Garage on a regular basis. And then The Nosh. And as months rolled on by, I was starting to lose hope they'd ever put rubber to pavement.
And then the beauty that is the truck was teased for a couple months at private events.
You're killin' me Smalls!
Well, just a few weeks ago, license obtained, Yum Dum officially hit the road, and last week I finally got to #getsum.
Once again returning the newfound glory that is Clark and Monroe, several coworkers and I descended on the trucks. Everyone else went for other trucks (and I had a mind to make this a double lunch, with Blue Street Market on call), but I was bound and determined.
After waiting in the very healthy line, I had to make my choice: baowiches or dumplings. Not easy, but I went dumplings: half pork and chive, half Thai chicken. The lunch option includes a side and a drink, and there was no way in hell I was going to pass on kimcheesy balls. I had been drooling over them via Instagram for far too long. So those and a crazy can of Asian sarsaparilla, and I was set.
Let me tell you: this lunch was worth the wait (literally and figuratively). Hands down some of the best dumplings I've ever eaten, and those kimcheesy balls hit on so many levels.
I need to #getsum more!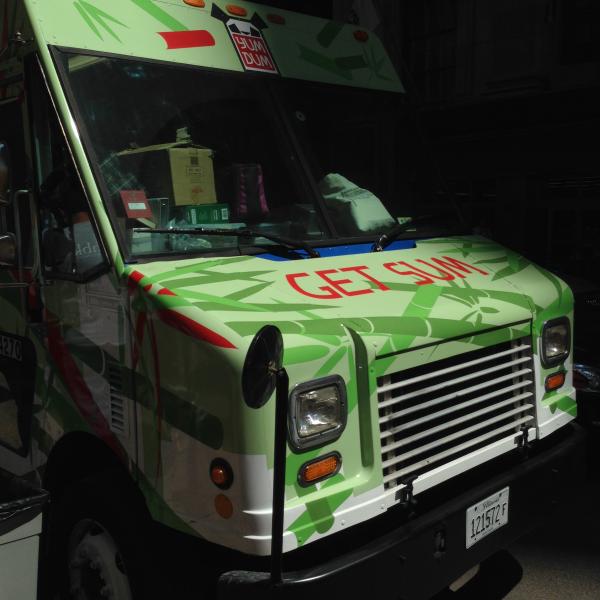 Follow That Truck!
Catch us at the Argyle Night Market tonight. There will be amazing food, live music, cultural performances and kids…

t.co/jbkPFyXr7m

Rain rain go away, come play shuffleboard today🌴🐼 📍Royal Palms Shuffleboard (inside) ⏰ 12p-9p

t.co/MrAbKrd4LP